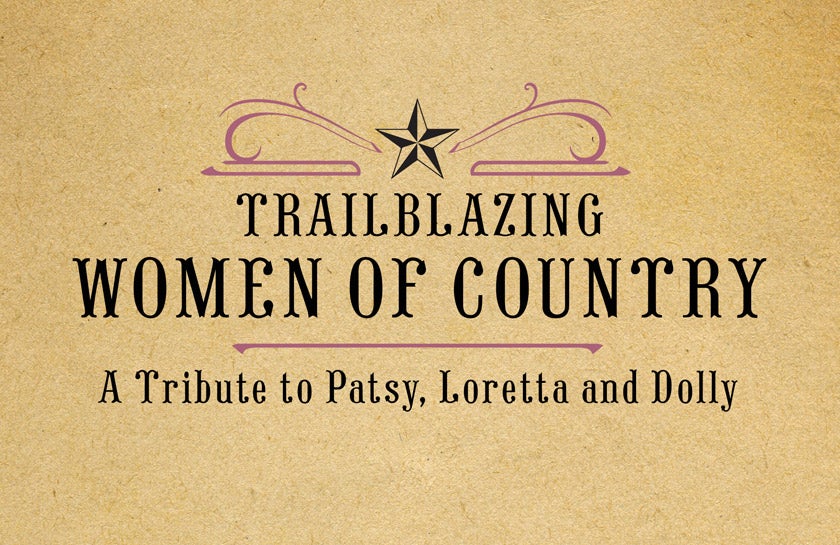 Trailblazing Women of Country
A Tribute to Patsy, Loretta and Dolly
Date

Thursday,

April

11

, 2024

Event Starts

7:00 PM

Venue

Shubert Theatre

Location

247 College Street, New Haven, CT

Doors Open

Lobby doors open one hour prior to showtime, theatre doors open approx. 30 minutes prior to show. Latecomers may be asked to wait in the lobby until a time that will cause the least disturbance to the audience members already seated.

On Sale

On Sale Now

Share
Event Details
Patsy Cline, Loretta Lynn, and Dolly Parton revolutionized country music and blazed a trail for future generations of female artists. With their chart-topping hits and record-breaking sales, Patsy, Loretta, and Dolly wove threads of contemporary womanhood throughout the tapestry of country music, resulting in unprecedented commercial success and earning each a place in the Country Music Hall of Fame.
Trailblazing Women of Country will entertain and inspire audiences during this pivotal moment in our nation's history, featuring soloists, Miko Marks, CMT's 2022 "Next Woman of Country," and Nashville based singer, Kristina Train, supported by a five-member all-female band.
The Soloists: Miko Marks & Kristina Train
After releasing her critically-acclaimed album, Our Country in March 2021, Miko Marks dove head first into an industry that previously never fully embraced her. She closed out 2021 with her EP release, Race Records, which shined a light on the arbitrary divisions forced upon artists and audiences in the early days of music marketing in the 1940s. Marks was named to CMT's Next Women of Country Class of 2022 and she stood alongside five other artists and managers chosen to participate in the inaugural Equal Access Development Program, a program designed by mtheory and CMT to foster and support marginalized communities underrepresented in the genre of country music. Now more
than ever, the change needed is beginning to come to fruition; a change Marks feared she wouldn't bear witness to in her existence: "I get emotional around it, because I didn't think I would see any of this in my lifetime," - Marks says.
The Wall Street Journal has described it as a "genre and industry-defying mission." NPR declared it a "multilayered experience." The New York Times commended the movement as carving out a new path in country music. All tell the story of Miko Marks' resurgence as she deftly blends country, blues, southern rock and even gospel to create a sound and experience that has literally brought every audience to its feet. This new sound along with her warm and soulful spirit catapulted her into a community of change with her doing more than breaking ground - she's shattering it. It's a serendipitous realization that Marks was meant to be here, at this time, in this moment, for good.
Kristina Train is a Nashville-based musician who splits her time with the UK. Her debut album premiered on Blue Note Records in 2009. Her second solo album was released on Mercury Records UK in 2013. She has toured the world as a feature vocalist and violinist in Herbie Hancock's band, collaborated with Dr. Dre, performed at The Nobel Peace Prize, and made a fan of Bruce Springsteen. Train's voice is pure, richly embodied and crystal clear, with a recognizable nod to the vocal traditions of Nat King Cole, Roy Orbison, and Dusty Springfield. While her take on modern crooning is familiar, it can also be excitingly idiosyncratic, as showcased in her 2020 release, "We the People."
View a full list of shows and events
The show runs approximately 75 minutes with no intermission.