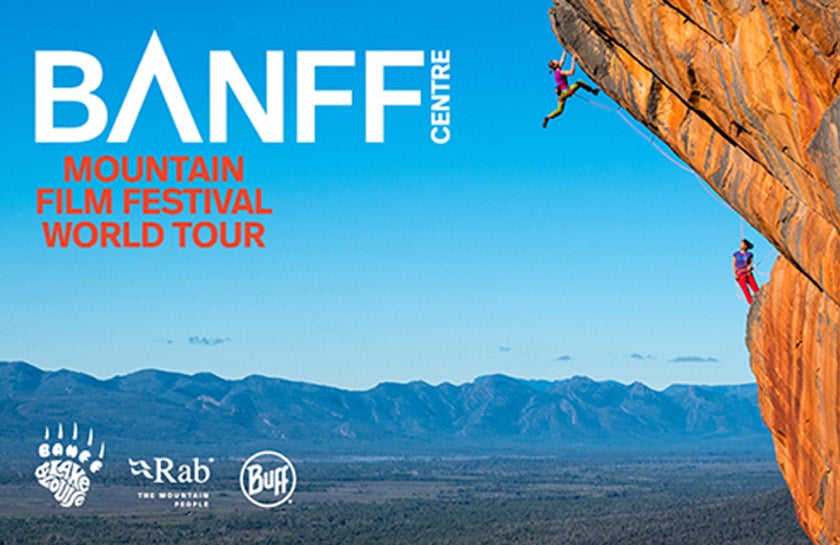 Banff Centre Mountain Film Festival
Date

Saturday,

February

25

, 2023

Event Starts

7:00 PM

Venue

Shubert Theatre

On Sale

On Sale Now

Share
Event Details
Get off the beaten path and explore the edge of believable with captivating stories from the 47th Banff Centre Mountain Film and Book Festival. Stand on the highest peaks, ski the steepest slopes, and be a part of the gripping adventures waiting for you in this year's Banff Centre Mountain Film Festival World Tour.
From exploring remote landscapes to adrenaline-fueled action sports, films selected for the 2022/2023 World Tour are sure to captivate and amaze you. Be moved. Be inspired. Don't miss out. Get your tickets today.
Willow Program listing of films
Running time is approximately 2 hours and 38 minutes with a 20 minute intermission.
Flow
2021, France, 5 minutes
Filmmaker: Maxime Moulin, Sam Favret
An aerial and symphonic journey with skier Sam Favret, in the heart of a closed resort during the winter of 2021, rediscovering a playground in its wild state.

The Fastest Girl in the Village
2021, UK, 6 minutes
Filmmaker: Fraser Byrne, Tyrone Bradley, Yeow!
As a girl growing up in Lesotho, Khothalang Leuta never imagined she could become a bike racer. From teaching herself how to ride a bike to becoming "faster than the boys", see what can be accomplished when opportunity is provided.

Nuisance Bear
2021, Canada, 14 minutes
Filmmaker: Jack Weisman, Gabriela Osio Vanden,
Will Miller, Documist
Churchill, Manitoba, is famous as an international destination for photographing polar bears. We've seen the majestic images and classic wildlife series captured here, but what do these bears see of us?

Wild Waters (Tour Edit)
2022, Switzerland, 45 minutes
Filmmaker: David Arnaud, Red Bull Media House, MOVIO
Advisory: Coarse language, sensitive subject matter
Discover the incredible life of Nouria Newman, the most gifted kayaker of her generation.

INTERMISSION

Creation Theory
2022, USA, 22 minutes
Filmmaker: Ben Sturgulewski, Ben Moon, Justin Sweeney,
SturgeFilm
Advisory: Coarse language
Nature's raw elements converge in the Westfjords of Iceland, taking us on a journey from the interstellar birth of gravity and rhythm to their ultimate human creative expression: surfer on wave, snowboarder on peak, and musician on stage.

Reel Rock 16: Cenote
2022, USA, 9 minutes
Filmmaker: Reed Rickert, Zachary Barr, Reel Rock
A young papaya farmer discovers the pure joy of climbing in the crystalline limestone sinkholes of Mexico's Yucatán Peninsula.
Free to Run
2022, USA, 31 minutes
Filmmaker: Carrie Highman, Tim Highman, Dream Lens Media LLC
Advisory: Coarse language
UN human rights attorney and mountain runner, Stephanie Case, struggles to find a way forward for the Afghan women of her NGO, Free to Run, while taking on her most challenging ultra-race yet.
Danny MacAskill's Do A Wheelie
2021, UK, 6 minutes
Filmmaker: Jonny Ashworth, Lisa Annette, Cut Media
Join Danny MacAskill and a host of friends as he pushes the boundaries of the humble wheelie and learns a thing or two from friends old and new.
Please Read Our Health & Safety Guidelines
With the continued, ever-evolving situation of COVID-19 changing regionally and in Connecticut, Shubert Theatre has updated its health and safety policy effective Friday, July 8, 2022:
Patrons are not required to present either proof of vaccination or a negative COVID-19 test to enter Shubert Theatre.

The wearing of a face mask while inside the building will be optional for patrons.
While Shubert Theatre has relaxed its COVID-19 policies, it is important to note the following as entry requirements may change based on the following:
Certain shows or artists may require additional COVID-19 protocols which include proof of vaccination and/or masks. Shubert Theatre will include these requirements on its website as well communicated to patrons via email in the days leading up to the specific performances.

Should the Federal, State, local or health authorities issue further changes to policy in response to an increase in COVID-19 infection rates, Shubert Theatre reserves the right to comply with such changes and recommendations, including the reinstatement of mask wearing and/or vaccination/test requirements.

If patrons feel sick or are experiencing any COVID-19 symptoms, Shubert Theatre asks that patrons prioritize their health and the health of others by staying home.
How Do I Print My Tickets At Home?
You will receive your tickets in a separate email from tickets@capa.com. All e-tickets are sent 12 days before the performance date. Please check your spam and/or junk folder if they are not delivered by that time. To change the delivery method on an order, please contact the Box Office at (203) 562-5666.