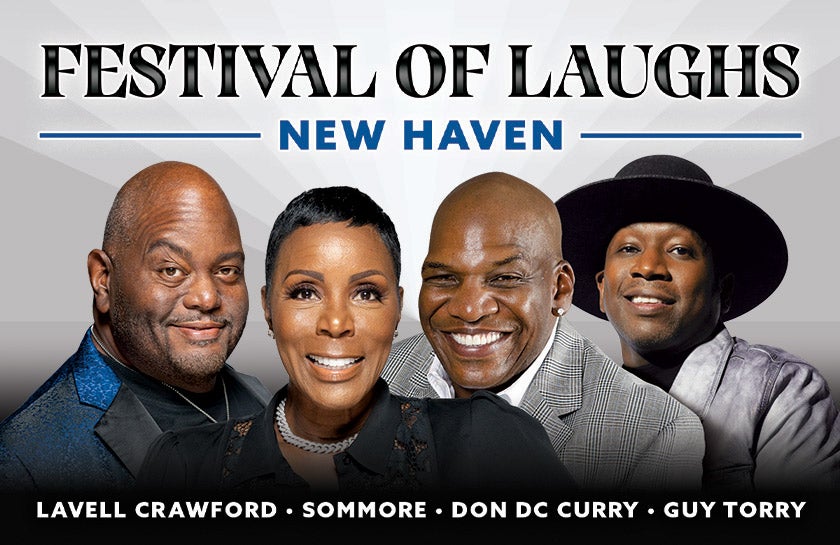 Festival of Laughs
Date

Oct 6 | Fri 8pm

Event Starts

8:00 PM

Venue

Shubert Theatre

Location

247 College Street, New Haven, CT

On Sale

On Sale Now

Share
Event Details
Get ready for an uproarious evening of laughter at the highly anticipated Festival of Laughs! The show features a star-studded lineup of renowned comedians, including Sommore, Lavell Crawford, Guy Torry and Don DC Curry. With their perfect blend of humor and charm, these world-class comedians each bring their own unique comedic style that offers something for everyone.
SOMMORE, the award-winning comedienne of "Chandelier Status," has had a successful career spanning over 20 years. A trailblazer for women in comedy, Sommore has appeared in hit films like "Soul Plane," "Something New," and "Friday After Next." Her television credits include shows like "The Parkers" and "The Hughley's." She has also been a guest on popular shows like "The Oprah Winfrey Show," "The Tonight Show with Jay Leno," "The View," and "Politically Incorrect with Bill Maher." Recently, her latest comedy special, "Queen Chandelier," premiered on Netflix. For more info, visit sommore.com. (Follow on Facebook: @QueenSommore, Twitter: @sommoresofunny, Instagram: @sommore)
LAVELL CRAWFORD, a critically acclaimed comedian and actor, is known for his stand-up comedy as well as his notable acting career. He gained fame for his role as Huell Babineaux in the series "Breaking Bad" and its spin-off "Better Call Saul." Crawford has appeared in films like "The Ridiculous 6," "Mike and Dave Need Wedding Dates," "American Ultra," and "On the Count of Three." He has released five stand-up specials, including the highly praised "The Comedy Vaccine," which earned him a Grammy® nomination for Best Comedy Album. His latest comedy special, "Lavell Crawford: Thee Lavell Crawford," premiered on Showtime in February 2023. For more info, visit comedianlavellcrawford.com. (Follow on Facebook: @lavell.crawford.52, Twitter: @Lavellthacomic, Instagram: @lavellsthacomic)
GUY TORRY, following in the footsteps of comedy legends like Richard Pryor and Bill Cosby, has successfully transitioned from the stage to comedic acting. His stand-up debut on Russell Simmons' Def Comedy Jam launched his national career, and he hosted the immensely successful comedy tour The Kings of Comedy. Guy's talents extended to creating the popular Phat Comedy Tuesdays and The Guy Torry Show at the Comedy Store, attended by A-list comedians. He has also made notable appearances in TV shows and films, including "Martin," "X Files," "Runaway Jury," "Don't Say A Word," "Pearl Harbor," "Life," "The Animal" and "American History X." (Follow on Facebook: @guytorrylive, Twitter: @GuyTorry, Instagram: @guytorry)
DON "DC" CURRY gained stardom in the '90s at San Francisco's comedy clubs with his bold and outspoken style. He took his act nationwide, becoming well-known for his portrayal of Uncle Elroy Jones in the popular films "Next Friday" and "Friday After Next." Curry has been a frequent guest and former host on BET's "Comic View" and has appeared on HBO's "Def Comedy Jam." In addition to his comedy career, he has had regular roles on TV shows like "Grace Under Fire" and "The Steve Harvey Show," and lent his voice to the animated hit "The Boondocks." For more info, visit dondccurry.com. (Follow on Facebook: @DonDCCurryOfficial, Instagram: @dc.curry.18, Twitter: @dondccurry)
Two hours and 30 minutes with no intermission.
View a full list of shows and events