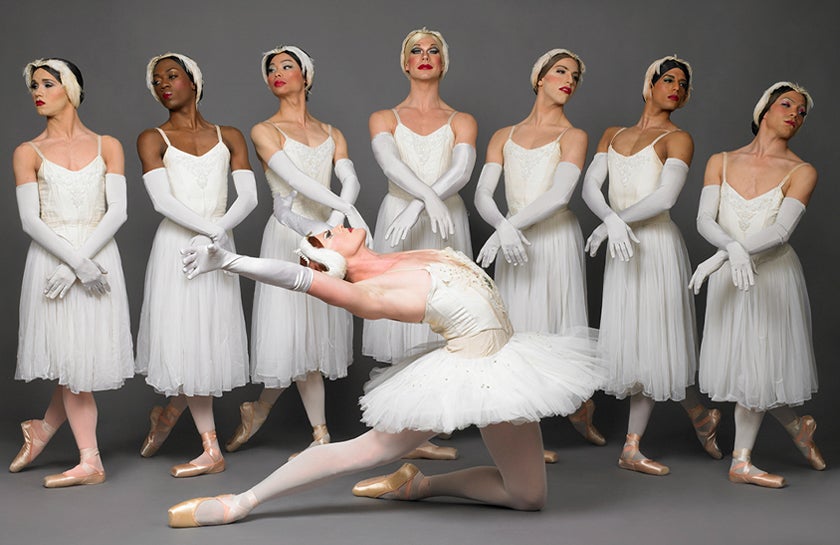 Les Ballets Trockadero de Monte Carlo
Date

Thursday,

February

23

, 2023

Event Starts

8:00 PM

Venue

Shubert Theatre

On Sale

On Sale Now

Share
Event Details
Les Ballets Trockadero de Monte Carlo brings its internationally beloved troupe of male dancers to the Shubert Theatre to perform a brilliant combination of skillful pointe work and hilarious parodying of classical ballet favorites like Swan Lake. Founded in New York City in 1974, the company, affectionately known as the Trocks, began by appearing in late-late shows in off-off Broadway lofts for small audiences who appreciated the iconoclastic humor of it all. In the nearly 50 years since then, the company has grown to achieve great appeal among more mainstream audiences who, each season, flock to theaters throughout the world to see these prima ballerinas perform. Revered by ballet aficionados as well as the uninitiated—those who don't know a plié from a jeté—the Trocks are "a guaranteed hoot for people who know nothing of ballet and an absolute must for those who think they know the originals." Sydney Star Observer.
ACT I
Swan Lake, Act II

Intermission

ACT II
Pas de Deux or Modern Work to be announced
The Dying Swan
Pause
Majisimas

The performace runs approximately 1 hour and 25 minutes. Program subject to change.
I selected "Print at Home" as my delivery method. Where are my tickets?
You will receive your tickets in a separate email from tickets@capa.com. All e-tickets are sent 12 days before the performance date. Please check your spam and/or junk folder if they are not delivered by that time. To change the delivery method on an order, please contact the Box Office at (203) 562-5666.
Why are there web processing fees and what are they used for?
The price of your ticket generally does not cover the cost of the ticketed event. To help keep ticket prices as affordable as possible, web processing fees are incurred to support the costs of our ticketing system - from technology to personnel. Web processing fees collected remain local, supporting mission-driven initiatives designed to make Shubert Theatre and New Haven a national destination for performing arts.
Please read our COVID Health & Safety Guidelines
With the continued, ever-evolving situation of COVID-19 changing regionally and in Connecticut, Shubert Theatre has updated its health and safety policy effective Friday, July 8, 2022:
Patrons are not required to present either proof of vaccination or a negative COVID-19 test to enter Shubert Theatre.

The wearing of a face mask while inside the building will be optional for patrons.
While Shubert Theatre has relaxed its COVID-19 policies, it is important to note the following as entry requirements may change based on the following:
Certain shows or artists may require additional COVID-19 protocols which include proof of vaccination and/or masks. Shubert Theatre will include these requirements on its website as well communicated to patrons via email in the days leading up to the specific performances.

Should the Federal, State, local or health authorities issue further changes to policy in response to an increase in COVID-19 infection rates, Shubert Theatre reserves the right to comply with such changes and recommendations, including the reinstatement of mask wearing and/or vaccination/test requirements.

If patrons feel sick or are experiencing any COVID-19 symptoms, Shubert Theatre asks that patrons prioritize their health and the health of others by staying home.