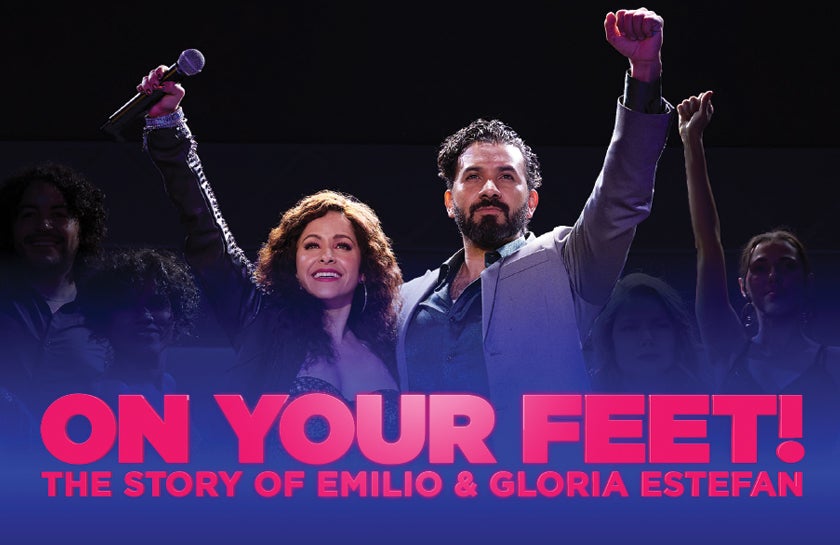 On Your Feet!
Date

March

23

-

26

, 2023

Venue

Shubert Theatre

On Sale

On Sale Now

Share
Event Details
HER VOICE. HIS VISION. THEIR STORY.
ON YOUR FEET! is the inspiring true story about heart, heritage and two people who believed in their talent—and each other—to become an international sensation: Gloria and Emilio Estefan. Now their story is an all-new exhilarating original musical winning the hearts of critics and audiences alike, with the Chicago Tribune declaring "IT'S A HIT!" and The New York Times cheering, "The very air in the room seems to vibrate in this undeniably crowd-pleasing musical!" ON YOUR FEET! features some of the most iconic songs of the past quarter-century, including "Rhythm is Gonna Get You," "Conga," "Get On Your Feet," "Don't Want To Lose You Now," "1-2-3" and "Coming Out of the Dark." Prepare to be on your feet from start to finish!
I selected "Print at Home" as my delivery method. Where are my tickets?
You will receive your tickets in a separate email from tickets@capa.com. All e-tickets are sent 12 days before the performance date. Please check your spam and/or junk folder if they are not delivered by that time. To change the delivery method on an order, please contact the Box Office at (203) 562-5666.
Why are there web processing fees and what are they used for?
The price of your ticket generally does not cover the cost of the ticketed event. To help keep ticket prices as affordable as possible, web processing fees are incurred to support the costs of our ticketing system - from technology to personnel. Web processing fees collected remain local, supporting mission-driven initiatives designed to make Shubert Theatre and New Haven a national destination for performing arts.
Please read our COVID Health & Safety Guidelines
With the continued, ever-evolving situation of COVID-19 changing regionally and in Connecticut, Shubert Theatre has updated its health and safety policy effective Friday, July 8, 2022:
Patrons are not required to present either proof of vaccination or a negative COVID-19 test to enter Shubert Theatre.

The wearing of a face mask while inside the building will be optional for patrons.
While Shubert Theatre has relaxed its COVID-19 policies, it is important to note the following as entry requirements may change based on the following:
Certain shows or artists may require additional COVID-19 protocols which include proof of vaccination and/or masks. Shubert Theatre will include these requirements on its website as well communicated to patrons via email in the days leading up to the specific performances.

Should the Federal, State, local or health authorities issue further changes to policy in response to an increase in COVID-19 infection rates, Shubert Theatre reserves the right to comply with such changes and recommendations, including the reinstatement of mask wearing and/or vaccination/test requirements.

If patrons feel sick or are experiencing any COVID-19 symptoms, Shubert Theatre asks that patrons prioritize their health and the health of others by staying home.