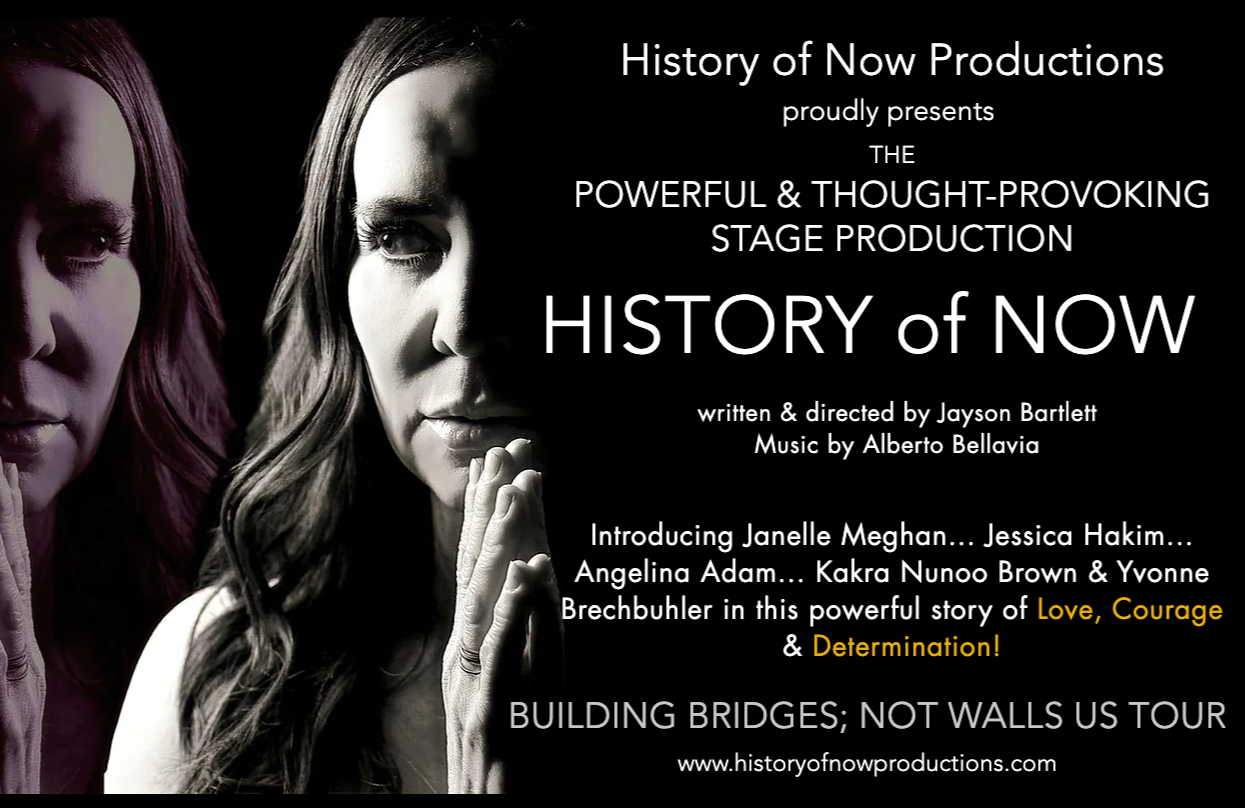 The History Of Now
Date

Saturday,

June

17

, 2023

Event Starts

7:30 PM

Venue

Shubert Theatre

On Sale

On Sale Now
Event Details
Jayson Bartlett, best known in the UK for his critically acclaimed plays The Luckiest Man In The World, The Interview and The Forgotten Room is excited to bring his latest work, The History of Now to the very first show of its US national tour now featuring original musical composition from international award winning composer Alberto Bellavia.
The History of Now was written from Bartlett's several years traveling through Europe and speaking to eyewitnesses and survivors of the Holocaust, this piece brings those first hand stories through a stage play told by fictional characters both in the present and past.
Through its slow unveiling of an ordinary life in present day and carefully structured flashbacks of the world leading up to before, during and after the Holocaust, the play engages its audience into the world of a Young Krystyna Haeutmann (Jessica Hakim). We follow her story both as a girl with her head in a book dreaming of adventure to the now older Krystyna Haeutmann (Yvonne Brechbuhler), a now elderly woman whose smile and warm persona defy her years and experiences.
This bookend approach to Haeutmann's life is supported perfectly by the present day characters of the office - Melissa O'Donnell (Janelle Meghan), Amber Flowers (Kakra Nunoo Brown) and Ashley Carter (Angelina Adam). Through their examination of Haeutmann's experiences, they begin to examine their own choices and lives.
As we begin in Act 1 in Berlin during the rise of Nazism, the audience will notice that Bartlett has removed the symbolism of that period, concentrating on the lives of the characters. Bartlett says of this decision "I wanted to focus on the human aspects which often become hidden, or excused." This theme is echoed from past to present throughout, and gives audiences a chance to see more humanity than history. As Haeutmann says "Do not confuse my early life with the stain of historical facts."
The play continues through Act 2 showing the changing life for young Young Krystyna, who now removed from her family lives beyond the barbed wire oppression that shadows her life. Yet it is her love and courage as the shining light which guides us through. In present day, Haeutmann's honest reflection delivered without malice, regret or need for revenge leads us to reflect on "What if?" and consider our own society's role and if it truly is "everyone's responsibility to try to change the world."
The History of Now originally premiered in England commemorating the 70th Anniversary of the Liberation of the Nazi Concentration Camp "Auschwitz" and Bartlett will continue to showcase the piece all over the world starting with the US. It has been described as a "complicated expression of our human emotions." and "a brilliant body of work which holds up a mirror in front of all of us." Audiences can expect a powerful thought provoking experience that will leave them thinking about past and present day society, humanity and empathy.