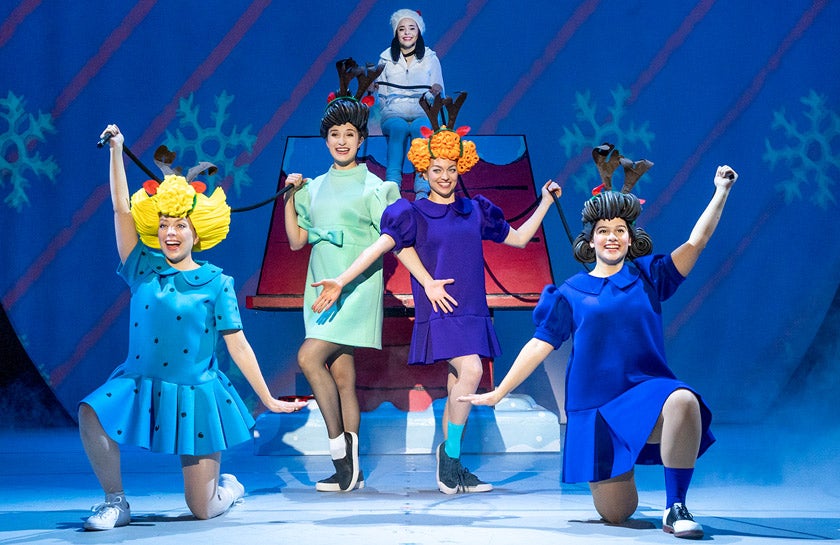 A Charlie Brown Christmas Live On Stage
Event Details
The beloved Emmy Award-winning TV special has been charming viewers since it first aired in 1965, and now you and your family can enjoy the Peanuts gang live on stage! Charlie Brown, Snoopy, Linus and the whole gang put on their own Christmas play and ultimately discover the true meaning of Christmas.
A Charlie Brown Christmas Live On Stage is the perfect holiday treat – from the young to the young at heart – it's a present the whole family can enjoy!
Does the stage show include music from the TV special?
This live stage show features all the classics from the Vince Guaraldi musical score played live by a three-piece band on stage.
What will Charlie Brown, Snoopy and the other characters look like?
The Peanuts characters are portrayed by actors who sing and dance on stage - they are not costumed characters.
Is the show interactive?
Yes, there's a fun concert of favorite Christmas tunes performed by the Peanuts characters immediately following the performance and you are invited to join along on some of the classic holiday songs.
Pre-Show GS Patch Program
Join us for our Pre-Show Patch Program before the Charlie Brown Show at 12pm. $10 per Scout (includes the patch!) Patches can be bought for $5 at the box office when you see any show or schedule a backstage tour!
25% off group tickets of 10 or more! Contact Azaria at asamuels@capa.com to PRE-REGISTER for the Pre-Show Patch Program and order group tickets.
Please Read Our Covid Health and Safety Guidelines
In consideration of the health and well-being of patrons, artists, volunteers, and staff - the following health and safety policy will be in effect through December 31, 2021:
FULL COVID-19 VACCINATION: will be required for patrons, as well as staff, volunteers, performers, backstage crew, and all others entering the Shubert Theatre.
IF UNVACCINATED: please bring proof of a negative COVID-19 PCR test taken within 72 hours of the performance start time.
FACE MASKS ARE REQUIRED FOR ALL regardless of vaccination status, while inside the building, except while actively eating or drinking. A properly worn mask completely covers the nose and mouth, is secured to the head, and fits snugly against the side of the face.
**Children 12 and under who cannot be vaccinated by federal law must be accompanied by an adult (who meets the above guidelines), and are required to wear a face mask. As vaccines are approved for children by the CDC and FDA, the Shubert will review its policy and update accordingly.
How Do I Print My Tickets At Home?
The print at home tickets will arrive in a separate email from tickets@capa.com. This usually comes 5-10 minutes after the order confirmation email, and it will have the tickets attached as a PDF file. Be sure to print all pages if there are multiple tickets in the order.
Because of the attachment from an unknown email, it can sometimes be filtered as spam or junk, so we suggest checking those folders. If the email with the tickets doesn't arrive after 24 hours, contact the Shubert Ticket Office at 203-562-5666, and they can re-send it or have the tickets held at the Box Office for you.
The Shubert will host a fun family friendly workshop themed around A CHARLIE BROWN CHRISTMAS! We will read the story, do fun arts and craft activities, have a family photo "booth." Each child will receive a book from Read to Grow to take home and keep. Each family will receive a cookie making kit to use at home.
Location: Stetson Library, 200 Dixwell Ave
Date: Saturday, November 20
Time: 1pm
Registration is required. Click here to register!
Patrons are encouraged to bring donations of non-perishable food items and new, unwrapped toys when they attend performances at the Shubert Theatre through December 31.
The Shubert is partnering with New Haven's Board of Alders as part of their continuing effort to assist the residents of the City. Donations from this year's food drive will benefit New Haven food pantries. Toys will be distributed to families through the New Haven Fire Department.