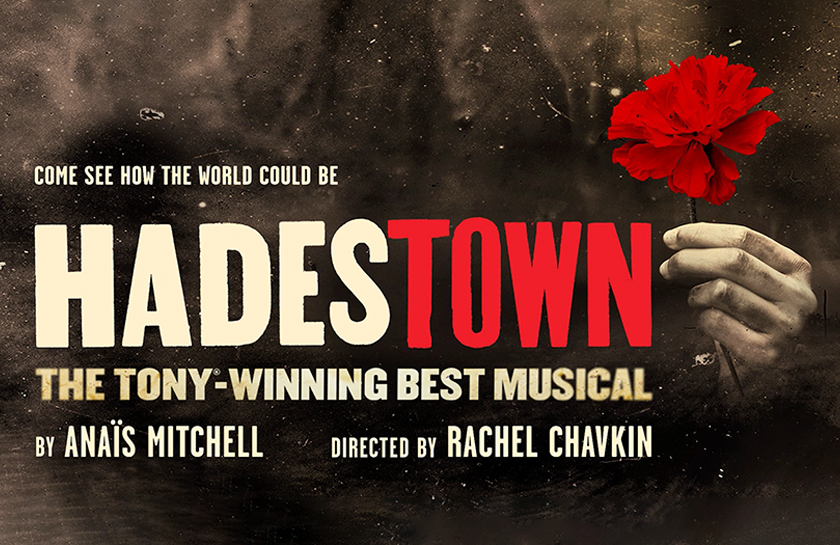 HADESTOWN
Date

April

30

-

May

5

, 2024

Venue

Shubert Theatre

Location

247 College Street, New Haven, CT

Doors Open

Lobby doors open one hour prior to showtime, theatre doors open approx. 30 minutes prior to show. Latecomers may be asked to wait in the lobby until a time that will cause the least disturbance to the audience members already seated.

On Sale

On Sale Now

Share
Event Details
View video of our Broadway Shows
COME SEE HOW THE WORLD COULD BE.
Welcome to HADESTOWN, where a song can change your fate. Winner of eight 2019 Tony Awards including Best Musical and the 2020 Grammy Award for Best Musical Theater Album, this acclaimed new show from celebrated singer-songwriter Anaïs Mitchell and innovative director Rachel Chavkin (Natasha, Pierre & The Great Comet of 1812) is a love story for today... and always.
HADESTOWN intertwines two mythic tales — that of young dreamers Orpheus and Eurydice, and that of King Hades and his wife Persephone — as it invites you on a hell-raising journey to the underworld and back. Mitchell's beguiling melodies and Chavkin's poetic imagination pit industry against nature, doubt against faith, and fear against love. Performed by a vibrant ensemble of actors, dancers and singers, HADESTOWN is a haunting and hopeful theatrical experience that grabs you and never lets go.
There's Still Time to Subscribe to the Broadway Series
We're still holding great seats just for Broadway Subscribers!
View a full list of shows and events
Show Running Time & Age Recommendation
HADESTOWN runs approximately 2 hours and 30 minutes, including one (1) 15-minute intermission.
The show is best enjoyed by audiences 8 years and older.
Around 2004, singer-songwriter Anaïs Mitchell was a twenty-something Middlebury College graduate when the melody of "Wait for Me" came to her while driving between performance gigs. She connected the lyrics to the Greek myth of Orpheus and Eurydice, a favorite of hers as a child. The story deepened as she put Orpheus, the young and creative optimist, against Hades, the King of the Underworld, who had a true love of his own in Persephone, the Goddess of springtime, flowers, and vegetation.
In collaboration with orchestrator/arranger Michael Chorney and original director/designer Ben t. Matchstick, HADESTOWN made its premiere as a small performance piece in 2006 at the Old Labor Hall in Barre, Vermont. From 2006 to 2007, Mitchell performed the show with a group of actors at a number of small venues throughout Vermont and Massachusetts before turning it into a concept album in 2010. The album earned international acclaim, which prompted a concert tour to some 60 cities across North America and the U.K. through 2012.
Along the way, Mitchell's agent sent a copy of the album to producer Dale Franzen who caught a performance of HADESTOWN at McCabe's Guitar Shop in Santa Monica, California. Franzen immediately saw the potential and began further development at The Broad Stage in Santa Monica, also bringing producer Mara Isaacs into the fold.
In 2012, Mitchell saw the Ars Nova production of Dave Malloy's Natasha, Pierre & The Great Comet of 1812, which transferred to Broadway in 2016. Mitchell felt an immediate connection with the show's director, Rachel Chavkin, and the two began collaboration on HADESTOWN, which premiered its fully staged production at New York Theatre Workshop (NYTW) in the summer of 2016. It was during the NYTW run when the show set its sights towards Broadway.
HADESTOWN played two additional pre-Broadway engagements at the Citadel Theatre in Edmonton (Canada) and the National Theatre in London. It began previews on Broadway on March 22, 2019, and opened April 17, 2019, at the Walter Kerr Theatre where it remains today.
The Broadway production of HADESTOWN earned:
8 Tony Awards including Best Musical
Grammy Award for Best Musical Theater Album
6 Outer Critics Circle Awards including Outstanding New Broadway Musical
4 Drama Desk Awards
Drama League Award for Outstanding Production of a Broadway Musical
Study Guide & Educator's Website
Thinking about bringing your students to see a show? Find curriculum connections, fun activities, or just more information about the show in the show's study guide.
The HADESTOWN Education Online is a resource center for our community of students, educators, and musical theater enthusiasts.
HADESTOWN Education Online is a meeting ground in virtual space to connect with the company members of the Broadway Production, teaching artists, and exclusive HADESTOWN content.