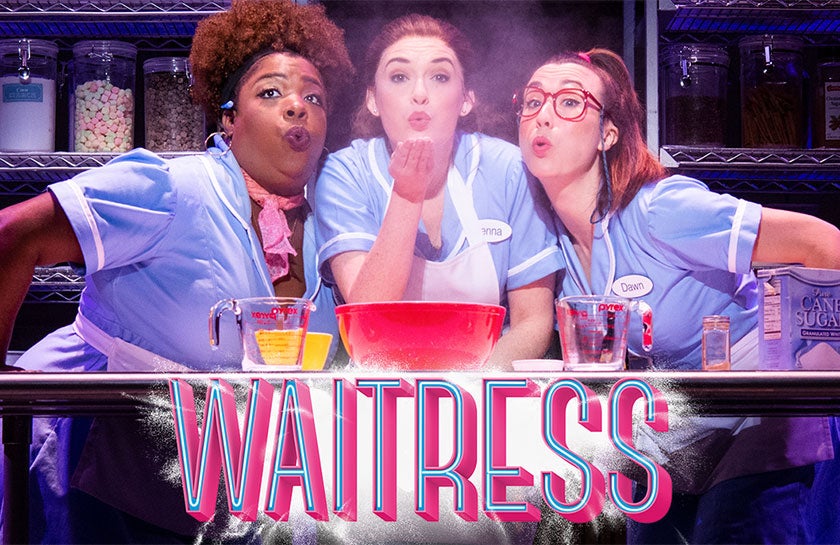 Waitress
Event Details
"WAITRESS is a little slice of heaven!" says Entertainment Weekly, and is "sweet, sassy and passionate," according to New York Magazine. Don't miss this uplifting and hilarious musical!
Meet Jenna, a waitress and expert pie-maker who dreams of a way out of her small town and rocky marriage. Pouring her heart into her pies, she crafts desserts that mirror her topsy-turvy life such as "The Key (Lime) to Happiness Pie" and "Betrayed By My Eggs Pie." When a baking contest in a nearby county — and a satisfying run-in with someone new — show Jenna a chance at a fresh start, she must find the courage to seize it. Change is on the menu, as long as Jenna can write her own perfectly personal recipe for happiness.
Inspired by the beloved film, this Tony Award-nominated hit is brought to life by a groundbreaking, all-female creative team featuring original music and lyrics by Grammy Award-winner Sara Bareilles ("Love Song," "Brave"), a book by acclaimed screenwriter Jessie Nelson (I Am Sam) and original direction by Tony Award winner Diane Paulus (Pippin, Finding Neverland).
Additional Ticket Information
Recommended Ages: Best enjoyed by audiences 13 years and older
The WAITRESS cast will be led by Jisel Soleil Ayon as "Jenna," alongside returning leading ladies Kennedy Salters as "Becky" and Gabriella Marzetta as "Dawn," with:
David Socolar (Dr. Pomatter)
Brian Lundy (Ogie)
Shawn W. Smith (Earl)
Richard Coleman (Cal)
Michael R. Douglass (Joe)
The ensemble includes Elvie Ellis, Stephanie Feeback, Brett Hennessey Jones, Andrew Burton Kelley, Olivia London, Vanessa Magula, José Monge, Kelly Prendergast, Zoë Brooke Reed, Julia Rippon, and Woody White.